The TN3270 Plus DDE support allows you to write Windows applications that communicate with IBM mainframe, iSeries (AS/400) or UNIX computers via TN3270 Plus terminal emulation.
How DDE Support Works
TN3270 Plus can act as a DDE server that fulfills requests of your application, the DDE client. This allows your application to send data to, or receive data from, the host computer via TN3270 Plus. TN3270 Plus can also act as a DDE client and initiate data exchanges with a DDE application server. TN3270 Plus DDE script commands can initiate a DDE conversation and exchange data with other DDE applications. DDE is most commonly used to exchange data with Microsoft Word or Excel, but it can be used with any application that supports DDE.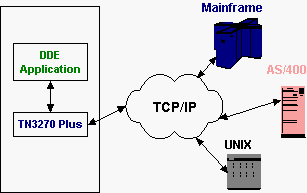 Sample Programs
Sample programs are available for download from the Customer Downloads page (http://sdisw.com/customer_downloads.htm) on our web site.
See Also:
---
TN3270 Plus is continually being improved. To learn more about the latest enhancements, please review our Version History web page.