To get started with SDI FTP, you need to create a session and connect to a host computer. Once you are connected to the host computer, you can move files between folders on your PC and folders on the host computer just like you move files between folders on your PC.
1.

Open the

H

o

st

menu and select the

N

ew

command or click the New button

on the toolbar.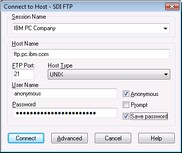 | | |
| --- | --- |
| Session Name | Enter a descriptive name for your session. This session will contain all the settings you need to connect to a specific host. If want to connect to more that one host computer you will create multiple sessions. The session name is used to select a tailored session for future connections. Here are some examples: (Microsoft, IBM, Mainframe Site 1, AS/400 FTP Server). |
Host Name

Enter the

domain name

or

IP address

of the computer you want to connect to. If you do not know the domain name or IP address, you will have to contact the network administrator at the host computer site. SDI cannot provide you with that information.
FTP Port

Enter the FTP connection

port number

. This is usually 21.
Host Type

Specify the operating system running on the host computer. Specify "Automatic detect" and

SDI FTP

sends the SYST command to the host computer to determine the operating system. This is the preferred selection. If the host computer, rejects the SYST command, select the appropriate host operating system from the list.
User Name

Enter your user name. If you are connecting to an FTP server that allows anonymous connections, check the "Anonymous" check box and

SDI FTP

will fill in a user name of anonymous for you.
| | |
| --- | --- |
| Password | Enter your password. If this is an anonymous connection, most FTP server administrators request that you fill in your e-mail address as the password. If you wish to be prompted for your password, check the "Prompt" check box. If you want you password to be saved so that you do not need to reenter it each time you connect to the host, click the "Save Password" check box. The password will be encrypted and saved with the other session information. |
3.

This is all you need for connecting to most FTP servers. Click the

C

onnect

button to make the connection.